Book A Jumping Castle Today
Call us at Call 520-445-8029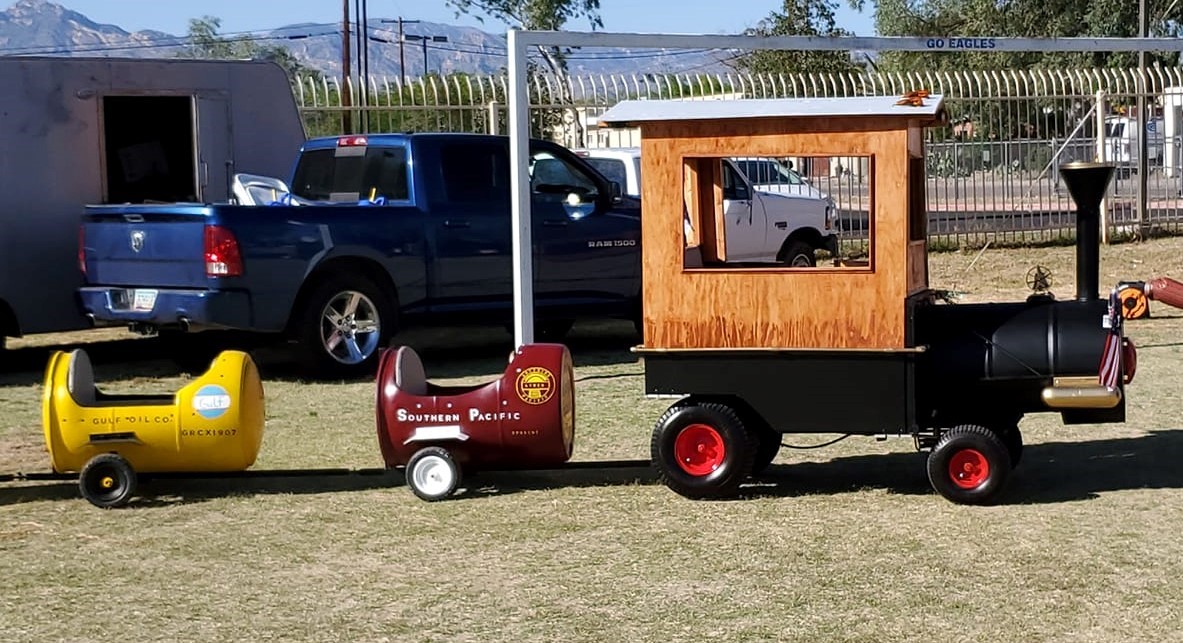 Yes We Now Have A Train
$100.00 an hour with a two hour minimun.
It is already booking fast, $100.00 rate is for a tractor, driver, and 4 four cars.
Standard Delivery (Local) and Setup is included.
Park Certified permitted & Fully Insured - Recent Parks and Recreation Rule changes require all Inflatables to have a generator. We can provide one for as little as $45.00 for a small one and $65.00 for a large generator and we must know in advance or there is an additional fee.
There are no exceptions to this rule.

Park delivery fee $50

In addition to the need for a generator at parks there is an additional $65 delivery fee for all park deliveries.
We offer so many choices at Jumpmaxx Jumping Castles in Tucson. Adding new castles every month to assist you with your party needs. We want your business and to do what we need in order to be everything you need in a castle company. Whether you need Jumping Castles,Waterslides,Dunk Tanks, Bungee Run, Joust, Sno Kone, Popcorn, Cotton Candy, Face Painting or Carnival Games we are looking for new and exciting items for your rental needs.
Jumping Castles come in a variety of different sizes and styles. Some people call them Bounce Houses, Moonwalk, or Jumps They may also maybe known as Play-zones or obstacle courses if they have several attractions inside
. We like to call them fun at Jumpmaxx LLC. Although no company can satisfy every customers need we have decided to offer the most castle for your dollar.
This summer we are bring in new items to thrill you and your guest. We are proud to Offer The Largest Waterslide In Tucson AZ. We have added The king of the mountain, the climbing inflatable rock wall.
Check out the new concessions to that will make your mouth water and please every aged child.
Most of our Jumping castles have more than one attraction in them we are adding party supply and rentals all the time, this provides great added value. You will find each unit to be priced very reasonably for the Tucson market.
Should you need a Generator to provide power for your castle it may be booked when you book the unit for $45.00 for a single blower capable unit.
A unit that will run a double unit is $75.00.Let Jumpmaxx LLC help you with your party planning.
It costs you nothing to reserve the unit you want.On the day of your event you can pay with Check,VisaTM,or MasterCardTM. Contact us to set your date and pay at the event.
If for some reason you decide not to have the castle you have reserved we ask that you would contact us and cancel by phone at least one day in advance.
Rain Policy
Jumpmaxx does not cancel due to rain. It is up to the customer to call and cancel.
Cancelations made by 8:00 PM the night before will have no cancelation charge.
If your unit is loaded on a truck and sent out for delivery and then you call and cancel you will be charged $13-$60 depending on the unit (half the price of a full delivery fee) This is to guarantee the driver still gets his pay for his time and travel.
Cancelations made when the driver shows up at your door will have a charge of $25-$90 depending on the unit that was ordered. This is to guarantee the driver still gets his pay for his time and travel.
Once the Unit is setup you will owe the full amount no matter if it is there 10 minutes or 6 hours.
Make sure your renter is insured,
We can operate and provide a Certificate of Insurability for any event we book.
Jumpmaxx, Tucson Arizona's party rental Solution center. The place to call for Jumping Casltes in Tucson.


Busy Kids Make Great Parties