$250.00/6hrs with water only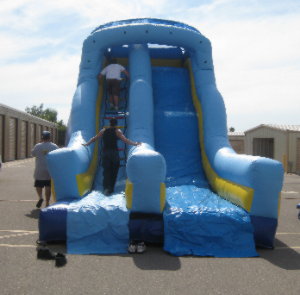 ** Shown without pool
Tucson largest inflatable water slide. This thrilling unit will keep you mezmerized and cool in the Tucson sun. The slide is fast and has a wonderful refreshing pool to cool you at the bottom.
You must have access to water to fill the pool and keep the slide wet so delivering it to the parks is not possible. Please measure the area to make sure it will fit in the space required. Order early for great summer fun!

Any Slide over 20 foot must have drive up access to the the setup location. These slides require a large flat area, and can only be setup on a surface that can be staked. Concrete and asphalt are not suitable for large slides to be setup
No slide will go over a wall, no slide will go up or down steps.
If you book a 20 plus slide and do not have access to deliver there will be at least a 75.00 or more cancellation fee depending on the slide. Our delivery driver will make the determination of deliveribility with the safety of himself, your family, and the slide as the guidelines.